CAMSC Drives Momentum and Highlights Economic Leadership at 14th Annual Business Achievement Awards Gala
The Canadian Aboriginal and Minority Supplier Council Recognizes Partners and Sustains Greater Representation for Aboriginal and Diverse Communities
Toronto, Ont. – September 27, 2018 – At its 14th annual Business Achievement Awards Gala this evening, the Canadian Aboriginal and Minority Supplier Council (CAMSC) recognized North American corporate leaders in supplier diversity and awarded the growing number of successful Canadian Aboriginal and minority business owners who work with them. The event celebrated this year's triumphs in advancing and advocating for greater diversity and representation in corporate supply chains. This year's winners represent first, second and third generation entrepreneurship in diverse owned businesses, and corporate leaders across sectors and industries committed to supplier diversity. The CAMSC Awards Gala celebrated the considerable business gains achieved in 2018, the economic advancement of minority businesses across all sectors, and exemplified by the array of winners. From leading multinational corporations to local start-up businesses, the evening's celebration of minority business success had a clear message: diversity is our future.
The Gala event was hosted by Master of Ceremonies Brandon Gomez from CTV's Your Morning, and was highlighted by a keynote speech from Mr. Mohamad Fakih, CEO of Paramount Fine Foods. Mr. Fakih's success journey as a minority-owned business leader who built a successful global chain of restaurants to become a multi-million dollar success exemplified attainable possibilities when passion, commitment and opportunity work together. Mr. Fakih emphasized "Diversity is a fact; inclusion is a choice" a reminder welcomed by cheer from the audience.
MP Jean Yip, from the riding of Scarborough—Agincourt brought greetings from Prime Minister Justin Trudeau, who commended CAMSC's ongoing dedication to building strong and inclusive business communities.
CAMSC President and CEO, Cassandra Dorrington reminded all that "We are honoured to recognize these leaders who represent the core foundation of greater representation that is behind CAMSC's mission. This year's winners are an impressive group of first, second and third generation Canadians who exemplify the abilities found in so many diverse and minority-owned businesses in the country," said Cassandra Dorrington, President and CEO of CAMSC.
"We're living in a rapidly-changing economic landscape where policy changes both in Canada and beyond its borders are having immediate effects on the business community," continued Dorrington. "Tonight's awards highlight the resiliency of minority business leaders who are able to rise to any challenges that come their way, and to exceed expectations regarding their collective successes."
Highlights at the event included successes in family businesses, with two minority-owned suppliers winning the Small Business of the Year Award and Technology Innovation Award. Small Business winner AceTronic Industrial Controls Inc. is an example of a third-generation success story. Started by President Kim Thiara's parents, Kim's daughter now serves as Sales/Diversity Liaison. Technology Innovation Award recipient Mo-D, is a second-generation supplier who works in the business with his mother who founded the company. The company provides an increasing number of innovative
products to the automotive sector. The City of Toronto's Collaboration Award represents the first government organization win and showcases the adaption of supplier diversity.
2018 Winners and Highlights:
Supplier of the Year was awarded to emergiTEL Inc, a prolific Staffing Agency with a specialization in the placement of Technology and Business Professionals. The company promotes inclusion and diversity within the staffing industry, in the hopes of giving newcomers to Canada a fighting chance to find great employment.
Procurement Business Advocate of Year was awarded to Reggie Humphrey, Senior Manager, Supplier Diversity, GM. Humphrey has been Senior Manager, Supplier Diversity at General Motors (GM) since 2012, and has been with the company for over two decades. Reggie is a key player in ensuring supplier diversity is front and centre at GM.
Small Business of the Year was awarded to AceTronic Industrial Controls Inc. Since 1983, AceTronic has manufactured, distributed and serviced products that plastic manufacturers in Canada, U.S. and Mexico use to create their own products. With $1.5M in sales over the past year, the company is poised for increased growth in the coming years.
The Technology Innovation Award was awarded LA Metal Stamping. Founded in 1976, LA Metal Stamping Co. is a business that designs, patents and manufactures metal stamped parts. The company has continued to grow with Fortune 500 companies such as GE (General Electric) and auto industry leaders like GM, Toyota and Chrysler (FCA).
The Collaboration Award was awarded to City of Toronto. In 2017, the City of Toronto implemented the Social Procurement Program, which uses the organization's procurement to create positive social and economic outcomes. On average, the City of Toronto spends approximately $1.8 billion in procurement contracts annually. Social procurement is about leveraging a proportion of the City's procurement spend to create economic opportunities for people from equity-seeking groups.
The Tier 1 Champion of Supplier Diversity Award was awarded to Dana Incorporated. Dana Incorporated provides engineered solutions for improving the efficiency and sustainability of powered vehicles and machinery. Since 2010, Dana Incorporated has been actively supporting diverse suppliers and in the last four years, the development of diverse suppliers has expanded by 76% (57% increase in spend).
Corporation of the Year Award was presented to Toyota. At TOYOTA, their long-standing commitment to diversity and inclusion is driven by their founding principles of Respect for People and Continuous Improvement. Their process of diversity and inclusion is ingrained throughout TOYOTA's business functions and is illustrated every day by their team members, supplier partners, and community advocates.
Detailed award and winner information follows at the end of this release. For more information about CAMSC and the awards gala, visit www.camsc.ca.
CAMSC Gala2018_Keynote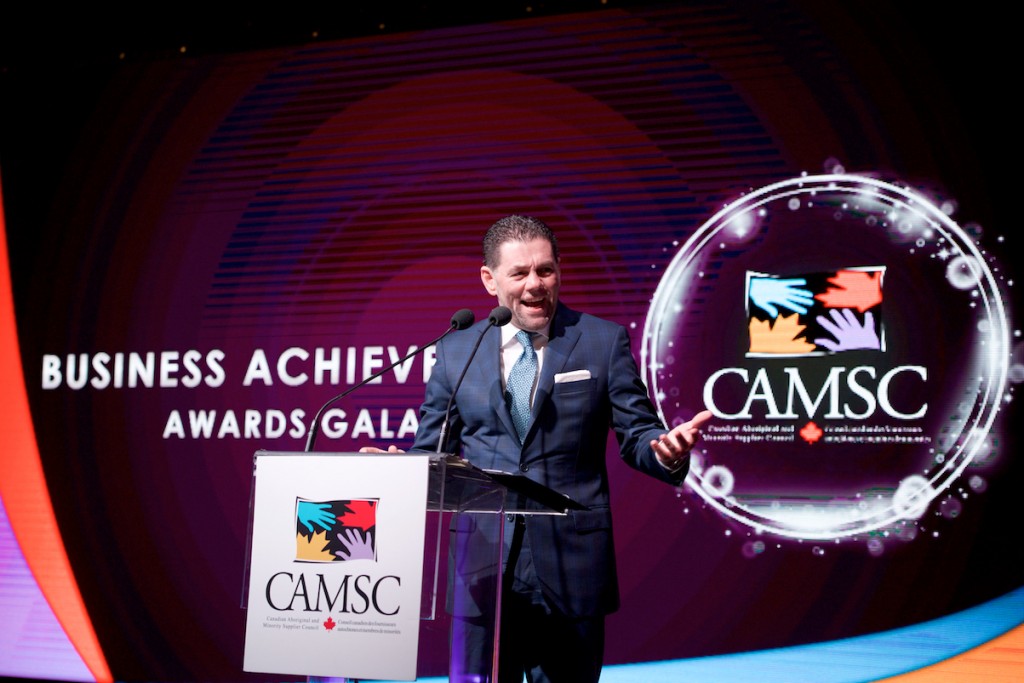 Mohamad Fakih of Paramount Fine Foods delivered a well-received keynote speech.

CAMSC Gala2018_Group
Group photo (From Left): Cassandra Dorrington, CAMSC; Stephanie Burton, Purchasing Supplier Diversity Manager, Toyota; Simmie Thiara, Sales/Diversity Liaison, AceTronic Industrial Controls Inc; Aneela Zaib, Founder & CEO, emergiTEL Inc; Mo-D, Director of New Business Development, LA Metal Stamping; Chris Dawson, Senior Manager, Purchasing Analytics, Dana Incorporated; Michael Pacholok, Chief Purchasing Officer, City of Toronto ; Reginald Humphrey, Senior Manager, Supplier Diversity, General Motors
About CAMSC
CAMSC (Canadian Aboriginal and Minority Supplier Council) is a non-profit organization created in 2004 to advance the economic strength of Aboriginal and visible minority communities through business development and employment. CAMSC's mission is to facilitate business relationships with Canadian corporations and supplier organizations owned by Aboriginals and minorities. Since its inception in 2004, corporate members have spent more than $4-billion with CAMSC certified Aboriginal and minority-owned businesses. Visit www.camsc.ca
For more information:
Daphne Shih
Director, Business Development and Partnerships
Canadian Aboriginal and Minority Supplier Council
T: 416-941-0004 x223 E: [email protected]