Supplier Diversity Playbook – Track 1 Module 2 – Identification of Opportunities in the Supply Chain
June 13 @ 2:00 pm

-

4:00 pm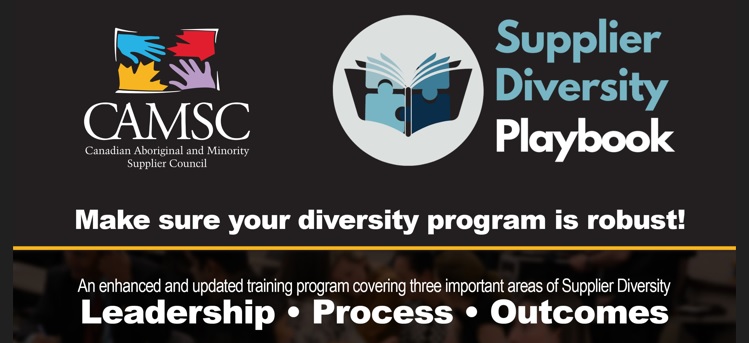 Please click here for Track 2 information
We are excited to announce the relaunch of CAMSC's Supplier Diversity Playbook Training for 2023!
This has been a valued tool that has supported development and growth of our corporate member's supplier diversity program. We are introducing an updated and enhanced version of the Supplier Diversity Playbook training. This training will have two tracks.
Track one, "Building a Supplier Diversity Program " is designed for members who are just starting the implementation of their SD program or those that have a program under 5 years in the making. It will help you develop key strategies to implement or enhance your program. This is a four module small group training session with a one on one consultation at the end of four sessions.
Module 1 –  May 30th 2pm – 4pm EST – Establishing a Corporate Policy and Management Support
Module 2 – June 13th 2pm – 4pm EST – Identification of Opportunities in the Supply Chain
Module 3 – June 20th 2pm – 4pm EST – Processes that Support Your Supplier Diversity Program
Module 4 – July 11th 2pm – 4pm EST – Measuring and Reporting
Please click here  to register!
Space is limited. Seats are available on a first come first served basis.
Pricing:
As a member of our Leader Category, your organization is entitled to one free seat on one the SD training program either the 4 Modules of Building a Supplier Diversity Program or Track two Enhancing and Amplifying your SD program. You can register additional members at a preferred rate of $2500.00 CAD.
As a member of our Champion Category, your organization is entitled to two free seats on the SD training program. You can choose to have two persons attend the Track one or track two or use the seats in a combination of track one or two. You can register additional members at a preferred rate of $2500.00 CAD.
As a member of our Associate and/or Partner category, you are entitled to a preferred rate of $2500.00 CAD for each seat of the programs.
About the trainers
This program has been developed by CAMSC in consultation with Dr. Fred McKinney of BJM Economics and Cynthia Dorrington, Vale and Associates.
Dr. Fred McKinney
Fred McKinney is the co-founder and principal of the economic consulting firm, BJM Solutions, LLC.  BJM Solutions works with large and small organizations since 1999.   BJM specializes in corporate supplier diversity and minority business development.   Dr. McKinney earned his Ph.D. in economics from Yale University in 1983.  Before retiring from Quinnipiac University, Fred served as the managing director at the Tuck School of Business Minority Business Executive Leadership Program.  From 2001 to 2015, Fred was President and CEO of the Greater New England Minority Supplier Development Council.    Fred served on the boards of Habitat for Humanity, The Greater Bridgeport Community Foundation, the Fairfield Community Foundation, The Federal Reserve Board of Boston Community Advisory Board, and several other for-profit and not-for-profit boards.  Fred received the Ronald H. Brown Leadership Award from the U.S. Department of Commerce, Minority Business Development Agency for his work promoting minority businesses.  Fred has authored four books on supplier diversity, contributed chapters in several books on the subject and in an internationally recognized thought leader on the subject.  Fred writes a bi-monthly column for the CT Hearst newspapers where he covers issues of race, equality, economics, and public policy.  Fred lives in Trumbull with his wife Ivy and two dogs, Rory and Bentley.  Ivy and Fred have two adult children who live in Minneapolis and Washington, DC.
Cynthia Dorrington, CPA, CMA
Cynthia Dorrington is the President of Vale & Associates Human Resource Management and Consulting Inc. Established in 2004 and certified since 2005, Vale & Associates is a boutique consulting firm specializing in providing strategy and advisory services as well as customized training and development for organizations. As President,Cynthia undertakes consulting work with small to medium-sized organizations across various industry sectors from start-ups, to businesses undergoing growth, to mergers/acquisitions with an emphasis on strategic positioning of its human resources and managing change. Expertise in areas such as organizational strategy, people strategy, equity, diversity and inclusion, supplier diversity, change management, governance, performance management, as well as HR advisory services has allowed Vale & Associates the opportunity to provide consulting services to several clients locally, nationally, and internationally.