CAMSC members, procurement experts, corporate partners and all three levels of government gather to talk strategy and trends in diversity procurement
TORONTO, April 13, 2017–Over two days (April 11-12), nearly 400 attendees consisting of Aboriginal and minority-owned supplier businesses, along with corporate procurement executives and government supplier diversity experts convened at the Canadian Aboriginal and Minority Supplier Council's (CAMSC) 13th annual Diversity Procurement Fair in Toronto.
The Fair offers suppliers opportunities for one-on-one meetings with some of the leading corporations in North America, along with workshops, panels and networking events. Agata Gorzelak, Head & Director, Strategy & Integration Procurement, for BMO, hosted the BMO-sponsored networking reception on Day One.
Innovation, growth, technology and sustainability were key topics of the two-day event. Professionals from industries including technology, finance, insurance, automotive, and healthcare, and all three levels of government, led panels and workshops on issues of cyber security, marketing, and sustainable supply chain management.
Highlights of the Fair included the Day Two networking breakfast called, "A Passionate View of Supplier Diversity." Attendees at this Ted Talks-style session heard the challenges faced and successes achieved from suppliers from a variety of industries, including Chip Dauber, Ongweoweh (pellets and packaging); Delores Lawrence, NHI Healthcare; Aneela Zaib, emergiTEL (recruitment); and James Wong, Triplewell (auto parts manufacturing).
"The Diversity Procurement Fair is an annual highlight for CAMSC's supplier and corporate members. We work hard to create a program that will address top trends in innovation that will help us grow supplier diversity in Canada and beyond," said Cassandra Dorrington, President and CEO, CAMSC.
"This year, General Motors and Ongweoweh sponsored CAMSC's day two luncheon panel, 'The View from the Top: C-Level Supplier Diversity,' with top procurement executives from RBC and GSK," Ms. Dorrington continued. "They were able to clearly articulate for the audience how supplier diversity functions as a driver for economic growth."
The popular C-Level luncheon panel brought the executive perspective of the supplier diversity challenge to the forefront. Marcelo Loureiro, Head of Procurement (the Americas), GSK, and Peter Conrod, Global Head of Procurement, RBC, spoke about the value of incorporating a supplier diversity strategy and the real business benefits such a strategy has brought t their organizations.
All levels of Canadian government participated in this year's Fair. The panel "Through the Looking Glass: Working with the Governments" provided valuable information to suppliers who wish to understand the ins and outs of doing business at the government level.
Markham Mayor Frank Scarpitti, who spoke at the event and presented Ms. Dorrington with a Certificate of Recognition on behalf of the City of Markham. He praised CAMSC for its "efforts in organizing this event that provides an opportunity for businesses to pursue inclusive and diverse supply chain through the inclusion of minority and Aboriginal suppliers and creating jobs in our community."
CAMSC is grateful to its many sponsors for supporting procurement diversity and this valuable event. Approximately half a billion dollars' worth of business is contracted annually by CAMSC's members and the Diversity Procurement Fair is where it all begins.
For more information on the 2017 Diversity Procurement Fair speakers and event details, click here.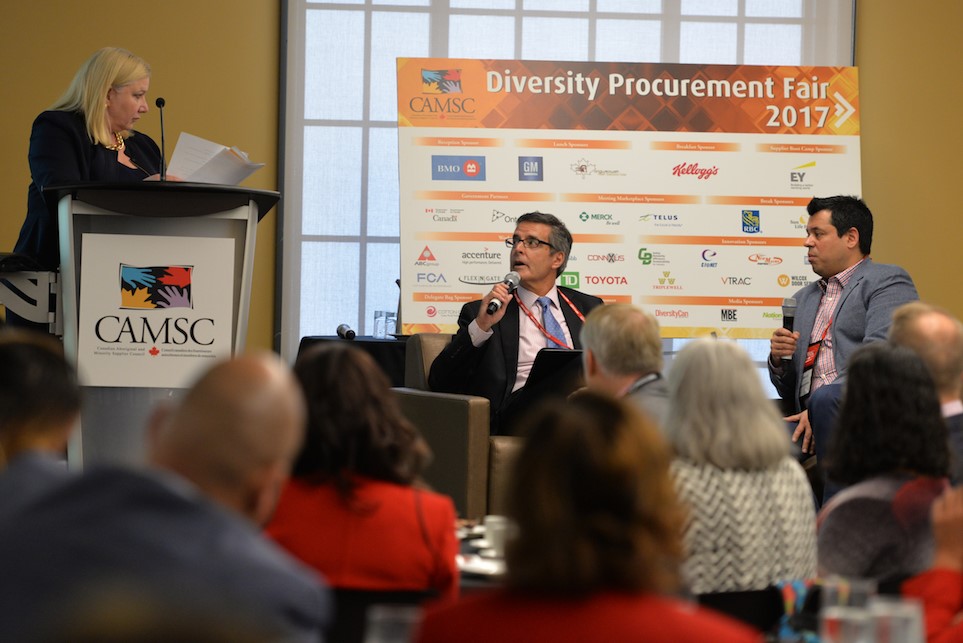 CPO Luncheon Panel (left to right): Moderator Wendy Cukier, Professor, Ryerson University; Peter Conrod, Global Head of Procurement, RBC; Marcelo Loureiro, Head of Procurement for the Americas, GSK
Kellogg's Breakfast SD Talks speakers (left to right): Aneela Zaib, CEO & Founder, emergiTEL; Cassandra Dorrington, President & CEO, CAMSC; Delores Lawrence, President & CEO, NHI Healthcare; James Wong, Vice President, Triplewell; and Chip Dauber, Business Development & Vendor Relations, Ongweoweh.
From left to right: Kiruba Sankar, Director, IT Procurement, RBC; Michael Yuan, Vice President, CIeNET; and Forood Malekzadeh, CEO, VTRAC Consulting, share how they use innovative technological resources to gain a competitive advantage for business during Innovations in Technology Workshop.
About CAMSC
CAMSC (Canadian Aboriginal and Minority Supplier Council) is a non-profit organization created in 2004 to advance the economic strength of Aboriginal and visible minority communities through business development and employment. CAMSC's mission is to facilitate business relationships with Canadian corporations dedicated to diversity and supplier organizations owned by Aboriginals and minorities. Since its inception in 2004, corporate members have spent more than $2 billion with CAMSC certified Aboriginal and minority-owned businesses. Visit www.camsc.ca.